Planning for an autism friendly Christmas (guest post)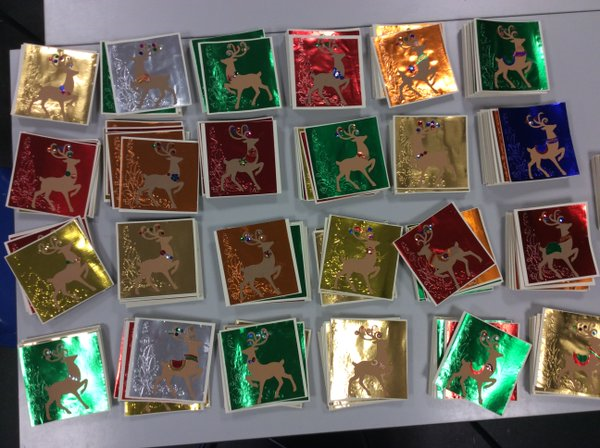 Sue Goldman is an autism education specialist offering support, advice and teaching to autistic children, their families and educational settings. She has kindly written us this guest post about planning for an autism friendly Christmas.
Music, glitter, festive foods, surprises, colour, presents, lights, concerts, people… and more people!
There is so much to love about Christmas time but also so much to challenge our autistic pupils. As timetables and routines are thrown to the wind, many of us relish the freedom and unpredictability of the festive season but, for autistic children, the loss of safe structure can feel confusing and worrying. There is concern about what lies beneath wrapping paper, the profusion of visual and auditory stimuli can feel overwhelming, the constant stream of people in both public and private spaces can just be too much – and this can lead to stress, meltdowns and shutdowns.
However, I bring good tidings…!
There is much that we can do to support our pupils through this very special time of year, helping them to enjoy the wonderful stuff whilst minimising the tricky bits.
Know your students
Preparation and planning are key elements of a successful autism-friendly Christmas. Keep up the visual timetables, giving the right amount of advance warning for your particular pupil. Some will need more preparation time, some will find waiting hard to handle. As always, be guided by your knowledge and understanding of the individual you are working with.
Surprises?
Surprises are generally quite hard for an autistic child to cope with. Involve them in decision-making and be creative when thinking about how to help them to enjoy the surprise elements of Christmas. For example, you could wrap presents in cellophane, which preserves the excitement of unwrapping while reducing uncertainty. If the class is having a party, try asking your autistic pupil to help you to set it up while the room is quiet. It can be much easier to be part of creating the transition to a party room than to enter a room that is so different to normal.
Food
Food issues are magnified around Christmas, both for children who love food and for those who have very selective diets. In general, it's a good idea to stick to familiar mealtimes, foods and routines as much as possible, whilst also offering opportunities to step out of comfort zones in a safe way. New foods can be introduced through play, which offers a low-anxiety strategy for helping pupils to become familiar with unusual smells, tastes and textures. Cinnamon play dough anyone?
Plays, concerts and all that jazz!
Practise, practise and practise again! Autistic pupils can and should have the opportunity to be part of Christmas celebrations, including plays and concerts, but you will need to think about how to fit their role to their abilities and preferences. They may need more opportunities to practise than other children, maybe starting with a trusted adult, then building up to a small group, then to a bigger group and finally to the full group with an audience. Don't underestimate how much courage and energy this can take for them, but don't deny them the chance. They may surprise you! The behaviours that we expect at Christmas (for example, decorating a tree or giving presents) can also be practised through fun, structured turn-taking games – adapt the words of a simple tune to create a clear beginning, middle and end to the game, make or find some appealing props and off you go…!
Play to their strengths
Play to their strengths. Autistic pupils are unique, complex and hugely rewarding to work with. When you discover what they like and are good at, they will often bring exceptional commitment, focus and talent to the activity or task, and there is no joy as deep as autistic joy! So harness their autistic superpowers! Your Christmas will be better as a result.
Remember to relax!
Remember the importance of rest and relaxation! Christmas is an all-singing, all-dancing, bells-and-whistles-on sensory smorgasbord, which can just be too much. Encourage breaks during which your autistic pupils can do whatever they need to do to help themselves to stay calm and well-regulated. Provide quiet spaces or access to outdoors to give decompression time and let them know that you will be responsive to them when they communicate – through words or through actions – that they have had enough.
Further reading
For more thoughts, I would recommend the excellent Christmas resources available from the National Autistic Society and also from Ambitious About Autism. 
***I wish you and your pupils a sparkling and peaceful Christmas***
Note: I am deliberately using identity-first language ('autistic child' rather than 'child with autism') as the autistic community expresses a clear and strong preference for this.
More information at www.suegoldman.co.uk
Are you looking for SEND staff or work?
If you're looking for a SEND teaching or support job in England or Wales, why not register with Axcis, the SEND recruitment specialists? Or perhaps you need to recruit staff for your school or provision? If so, why not take a look at the Axcis Website, or get in touch today to find out how we can help?