Axcis presents fundraising proceeds to 2021 annual charity of the year - Sky Badger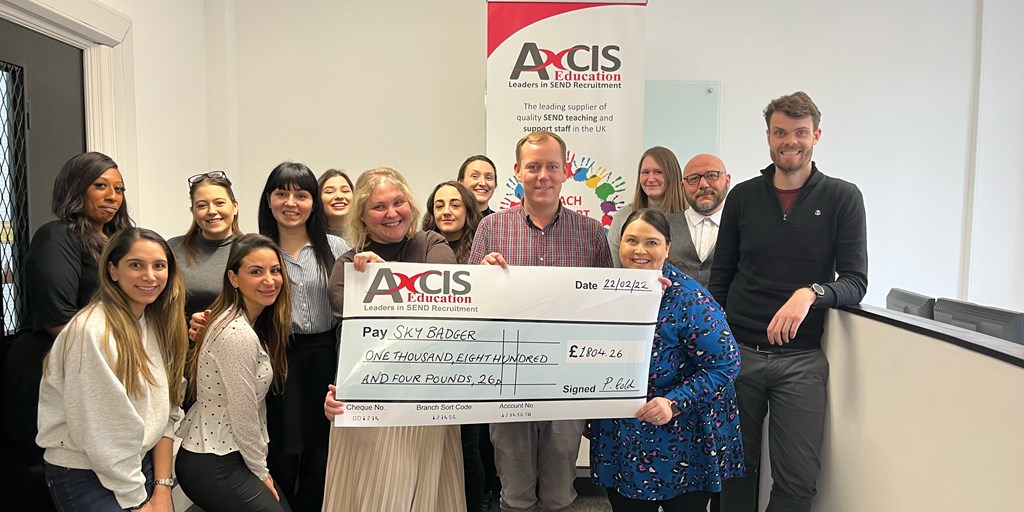 As leaders in special educational needs and disabilities (SEND) recruitment, we have always believed in demonstrating our commitment to the sector. That's why we have long-standing relationships with the National Autistic Society and nasen and have supported other charitable organisations and events on and off over the years. We do this because we know how vital the work these organisations do is for young people with SEND as well as their families and the wider community – and they can't do this without financial help. That's where we (and of course their other sponsors) come in.
As part of our dedication to the SEND sector, we are also aware that the bigger charities often attract the lion's share of the attention when it comes to fundraising and public attention. As such, we choose one charity a year to support with fundraising efforts. So when we came across Sky Badger and the wonderful work they do, we felt that as a smaller charity we could not only support financially, but help to put a spotlight on as well.
Despite the pandemic setbacks, we continued our efforts and proudly managed to raise a total of £1804.26 under the circumstances which we finally got round to presenting to Sky Badger CEO, Naomi Tomkys OBE.
Sky Badger is a wonderful charity that finds help and adventure for disabled children and their families all over the UK. They do this by building bridges between disabled children and the charities and services available to help. They find everything from disabled sports clubs to sibling groups to 'make a wish' charities and tell families about them though their website, social media platforms, videos, information packs and helpdesk.
If you are keen to support a small, grassroots charity that works tirelessly to support the SEND community then please donate to Sky Badger here.