My journey from being withdrawn from PE at school to becoming an Olympic gold medalist (guest post)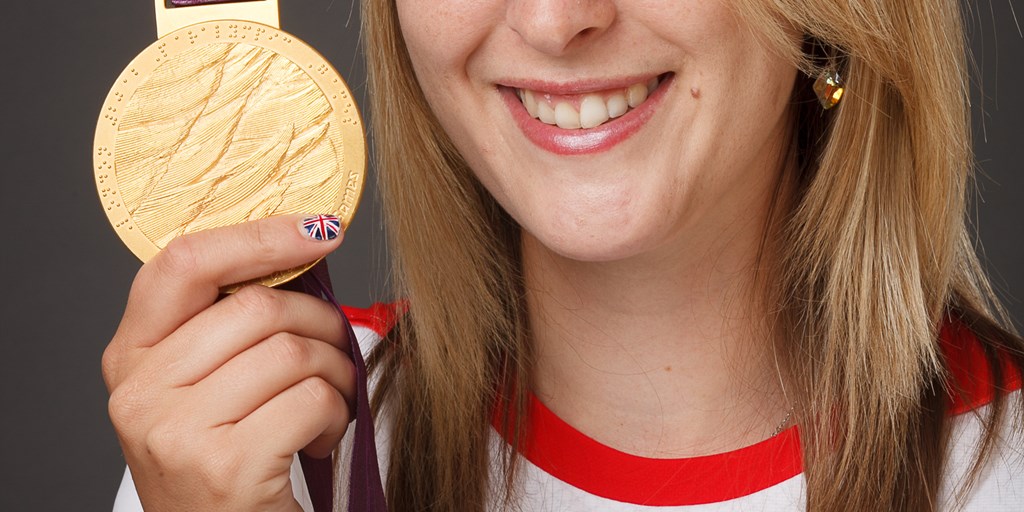 As a patron for nasen and Axcis Ambassador, we are thrilled to share this guest post from Danielle Brown MBE. In it, she talks about her journey from struggling at school with PE, through a difficult period of diagnosis for her disability and how she has overcome this to achieve sporting success. We think you'll agree that this is an inspiring story.
I have something called Complex Regional Pain Syndrome. It's a neurological condition that causes chronic pain in both my feet all the time. Not the most pleasant of things, but it is what it is.
Sport played an important role in my childhood. I grew up in a very active family and I loved nothing more than being outdoors. But at eleven years old my feet started to hurt after I'd been running. It progressively got worse until walking become unbearably difficult and taking part in all the sports I'd loved doing was impossible.
It took me five years to get my diagnosis. CRPS was – and still is in some cases – difficult to diagnose and not always well understood by the medical professionals. Five years of medical appointments, scans, medication and physiotherapy. Some doctors tested me for brain tumours, others accused me of making it up. All in all, it was a very difficult time for me and it completely fractured my self-esteem.
Growing up is a difficult time for anybody; it's where we start to figure out who we are and what we want to do with the rest of our lives. The world places so much value on outward appearances and I… well, I was broken. I didn't fit within that blanket ideal of physical perfection, which further singled me out. I was different, and different is sometimes a very lonely place to be.
At school, PE had gone from being my favourite subject to becoming a living nightmare. My mum did her best to keep the school updated, but without a diagnosis it was very difficult to get teachers to understand. I was still expected to participate, which caused my pain levels to skyrocket. In the end my Mum ended up pulling me out of PE and I spent two hours a week sat in the school library.
Sport ended up being the thing that turned my life around. I missed being active, missed being outdoors, so I looked around for a sport that didn't involve lots of running or walking and figured that archery was something I could do. For my fifteenth birthday my Dad and I did a beginners course at a local club, and I was terrible! It was a miracle if I could hit the target, never mind the middle of it but it was so much fun. Every night I'd pester my parents to take me to practice, and the more I practiced the better I got, the better I got the more I enjoyed it and the more I wanted to practice. Three years later I made the Great Britain team.
I jumped straight in as World Number 1 and hung on to that position for my entire career. I won gold in Beijing 2008 and retained my title on home soil in London 2012. I won five World Championship titles, held all twelve Paralympic World Records and did something that not very many disabled athletes manage – I made it onto the able-bodied team. In 2010 I proved to the world that disability does not have to be a barrier to success when I became the first disabled athlete to represent England at the Commonwealth Games, where I won a gold medal in the team event.
Sport transformed my life, challenging the perceptions I held about myself. There was a time when my disability was the cause of many insecurities and fears, and coming to accept myself for who I was and see beyond my physical limitations was a rollercoaster of a journey. This does not mean that I pretend this part of me doesn't exist. My disability plays a big role in my life. It's a constant companion, and truth be told I cannot remember what it is like to live without it. It has shaped my life, it has closed doors and opened them and it has made me the person I am today. It has been the very worst thing that happened to me, and the very best. But I am not broken. There is nothing 'wrong' with me and my disability does not restrict me in any of the ways that matter – I have pushed the boundaries of my potential and redefined what I thought I was capable of.
Looking back at my story, my teachers could have explored the different options available to me. They could have let me know more about inclusive sports and focused on my ability rather than my disability. Even though it worked out great for me in the end, I wonder how many other young people miss out because they aren't given the right messages or support.
And this is why I want to help others.
We all have the capacity to make a difference. So many people helped me turn my vision of winning medals for Great Britain into a reality. The belief my coaches had in me, the creative 'no barriers' thinking from my team, the unending support my family and friends gave me, the kindness of volunteers. I wouldn't be here now if it wasn't for them.
I now work with young people to help them unlock their potential and see their limitless potential. I equip young people with tools to help them raise aspirations, develop a success mindset and build confidence levels, whilst proactively supporting their mental wellbeing. We all have mental health, just as we all have physical health and if we proactively learn how to look after our mental wellbeing we are better placed to prevent issues from arising and live life to the best of our abilities.
We can all achieve great things given the right support and encouragement. Disability does not have to be a barrier to success if we approach it in the right way, so never underestimate the power of your words.
About Danielle
Danielle Brown MBE is a Professional Keynote Speaker, Training Provider and Coach. Her organisation inspires and empowers people to unlock their potential, overcome adversity and achieve big goals. Her online programme Your Journey To Success© centres around improving mental wellbeing and academic performance in schools and she has co-authored Be Your Best Self, a self-development book for 7-11 year olds.
E: info@daniellebrown.co.uk
W: www.daniellebrown.co.uk
Are you looking for SEND staff or work?
If you're looking for a SEND teaching or support job in England or Wales, why not register with Axcis, the SEND recruitment specialists? Or perhaps you need to recruit staff for your school or provision? If so, why not take a look at the Axcis Website, or get in touch today to find out how we can help?