My journey: how I became a TA & why (guest post)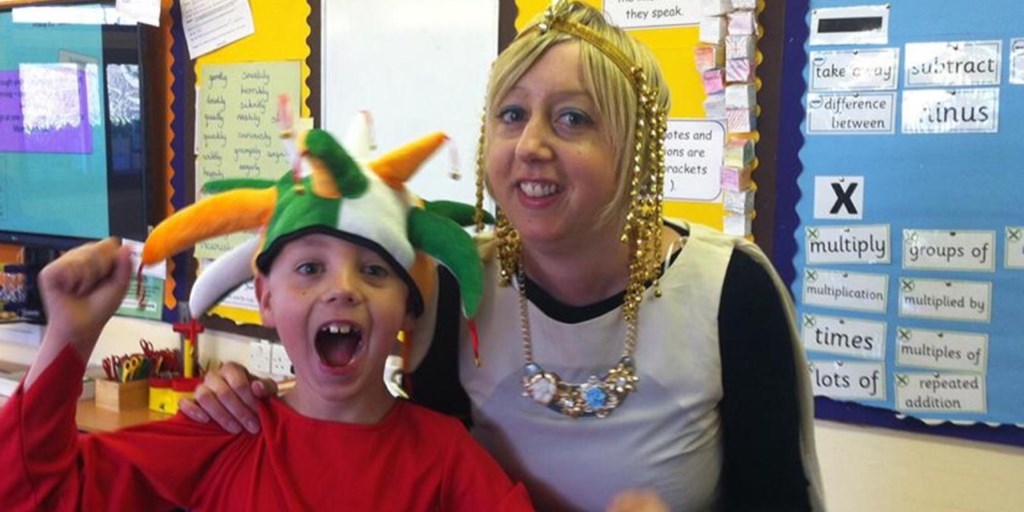 Me? Work in a school? I couldn't imagine it in this lifetime!
My career of choice aged 13 and above was fashion design, I spent evenings designing cool outfits a la Jean Paul Gaultier and doing art coursework in between listening to Bros and watching The Lost Boys (and of course The Clothes Show). I would never have placed myself in a school then but it is so rewarding and fulfilling and I adore it.
I didn't like school much-primary school was miserable as I dealt with daily bullying and a maths phobia, but I think that's why I make a difference working as a TA.
Later in life I found that art college teachers were tough critiques and this was too much for my wobbly ego at the time so I chose an apprenticeship in hairdressing-the closest I could get to creative work. I soon found out that it wasn't glamorous at all, I found it boring and was not for me, then came a nasty recession and a string of less than enjoyable customer service roles.
Feeling disillusioned and frustrated, I drifted from battery hen style call centres with Hitleresque bosses to menial supermarket roles (unexpected item in bagging area, anyone?)
The welcome turning point occurred when my first son, four, started school: At the parents meeting the wonderful, inspirational reception teacher pleaded for parents to help in the classroom. I was five months pregnant with my second child and I felt the need to make myself useful! My offer to volunteer was met with enthusiasm and gratefulness of staff and extended to staff room hospitality, coffee and biscuits. The school itself was small, cosy and caring with a lovely vibe.
Pleased that I was appreciated, I felt creatively fulfilled when I was put straight to work on a Christmas display in a mixed year one and two class. The best part of the work was the wonderful children and I loved every minute. Whilst on the school run or out at the shop, "Hello Mrs Phillips" never got old, and in the classroom having a reason to get glitter out the art cupboard meant I was even happy to work for free.
The children's talents gave me a buzz and I realised that my bad experience of school gave me skills for the job: I had patience with those who didn't understand, along with creative resourcefulness that had me raiding the cupboards and happy children who got it! I always try to raise morale and confidence of learners, and did not want them to feel like I did in the bad times!
Soon I began working at the school as a lunchtime supervisor. Again, my own bad memories encouraged me to be vigilant as I worked hard to prevent and sort out unkind behaviour and I developed an incidental sideline as an Agony Aunt!
However, if my dream of being a paid TA were to be realised I needed a level two NVQ, and a good maths qualification. Luckily I had a good English GCSE, but I had a lot of work to do-vacancies were few and far between-and they had the world (and his highly qualified, experienced wife) applying for them.
So I spent a few years in college gaining qualifications, and as no jobs were coming up I even did the first year of a foundation degree, so determined to get "The Edge" to land my dream job. After four years volunteering and a couple of unsuccessful interviews I landed a job at my favourite school as a one to one TA with a child with autism. I stayed there for six years and worked in every year group from reception to year six.
I had always wanted to work for Axcis in ASD bases and have done so for about fifteen months. I am now working long term in a secondary school (my old school, secondary school was fine!) and I never want to do any other role. Oh yes, and I help in all classes, from art to GCSE maths!
Anna Phillips
Anna Phillips is a TA in her old secondary school currently working at the ASD base. She started helping in schools aged 32 and has been doing so for 10 years, and has worked in all school year groups. She has always lived in Somerset and has two sons aged 10 and 15.
Are you looking for SEND staff or work?
If you're looking for a SEND teaching or support job in England or Wales, why not register with Axcis, the SEND recruitment specialists? Or perhaps you need to recruit staff for your school or provision? If so, why not take a look at the Axcis Website, or get in touch today to find out how we can help?